2023 Nissan Ariya
Overview
Gallery
Features
Trims
Nissan ARIYA VENTURE+
Up to 304 miles*
Extended Range
Nissan ARIYA ENGAGE
Up to 216 miles*
Extended Range
Nissan ARIYA ENGAGE e-4ORCE
Up to 205 miles*
Extended Range
Nissan ARIYA ENGAGE+ e-4ORCE
Up to 270 miles*
Extended Range
Nissan ARIYA EVOLVE+
Up to 289 miles*
Extended Range
Nissan ARIYA EVOLVE+ e-4ORCE
Up to 270 miles*
Extended Range
Nissan ARIYA EMPOWER+
Up to 289 miles*
Extended Range
Nissan ARIYA PLATINUM+
Up to 265 miles with 19" wheels*
Extended Range
Available Colors
Exterior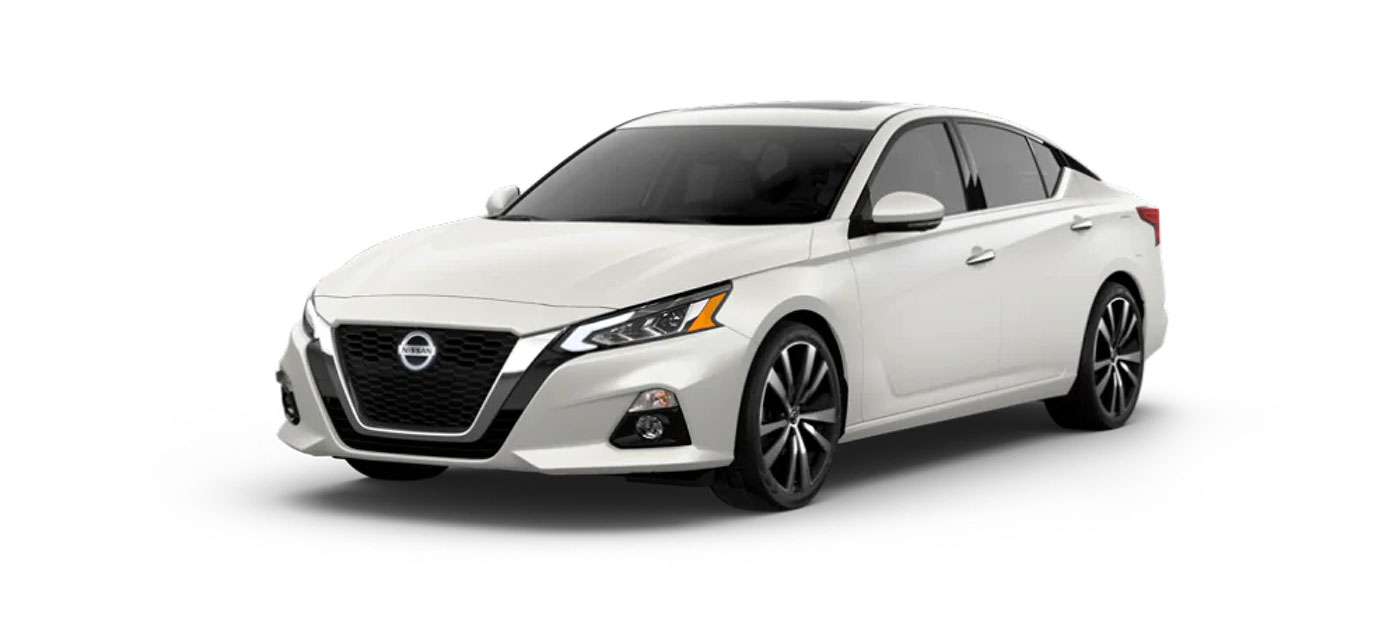 Be the first in line
Feel the thrill of being first, and the thrill of owning the all-new ARIYA electric crossover. Reserve yours now to get priority purchasing on the Nissan ARIYA. Plus those who meet eligibility requirements can get two years' free Evgo® membership plus $500 in charging credits at EVgo.[2][3]
Put your bravest plans into motion
Electrify every adventure. A dual-motor, e-4ORCE All-Wheel Drive system elevates traction and stability beyond weather. By monitoring energy output and braking response at each wheel, e-4ORCE can produce high-precision control. The kind that can help tame snow-covered roads and wet or icy surfaces.[4][5]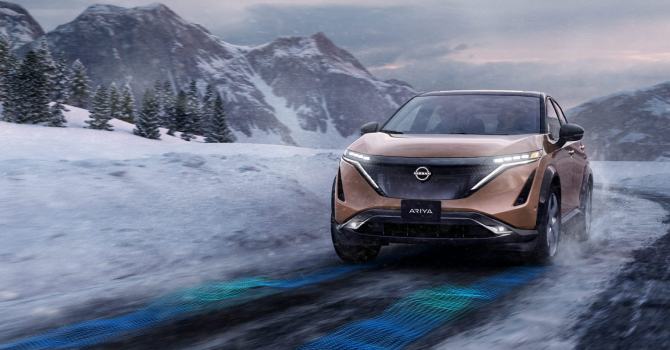 Pursue wanderlust
Explore freely. With standard and long-range versions, virtually nothing is holding you back. The choice between batteries and two-wheel drive or e-4ORCE All-Wheel Drive determines how far you can go. In a hurry? A nationwide network of fast chargers can keep you on the move for extended road trips.[5][6][7][8][9][10]
High-tech lends a hand
Feel more empowered. Driver assist technologies can lessen the burden of driving while you maintain control. Highway traffic? Tight space? Let the Nissan ARIYA help.[5][11]
*Based on model year EPA mileage ratings. Use for comparison purposes only. Your actual mileage will vary depending on how you drive and maintain your vehicle.
1. Price is Manufacturer's Suggested Retail Price (MSRP). MSRP excludes tax, title, license, options and destination charge. Dealer sets actual price.
2. Estimate of up to 5,000 miles for 2023 Nissan ARIYA Venture+ FWD only calculated based on $500 charging credit on EVgo network at an average expense of $0.34/kWh and Nissan estimated range of 300 miles per charge on Venture+ FWD. Actual mileage and charging times will vary with trim, battery and drive selections, options, driving conditions, battery condition and temperature, and other factors. Advertised mileage is not guaranteed. Nissan estimates for comparison purposes only. Nissan does not control EVgo rates; rates may vary across United States and may be different at time of charging.
3. $500 EVgo charging credit offer only redeemable by the first 10,000 customers who (i) reserve a 2023 ARIYA by January 31, 2022 , (ii) purchase or lease their reserved 2023 ARIYA from a participating Nissan dealer located in an eligible market by no later than December 31, 2022, and (iii) register and activate a customer account with the EVgo network within 365 days of date of sale. Must use credit within two years from ARIYA purchase or lease date. Charging sessions beyond the credit amount are subject to additional fees. Offer cannot be combined with other offers, is non-transferable, and not redeemable for cash. Fleet customers not eligible. Other terms, conditions, and eligibility criteria apply. Visit nissanenergyperks.com for full program details (including list of eligible markets). The EVgo network is owned and managed by EVgo, and is not within Nissan's control. Availability of charging stations not guaranteed. Reservations may exceed initial vehicle production levels. Therefore, Nissan cannot guarantee delivery of a 2023 ARIYA by any specific date.
4. e-4ORCE cannot prevent collisions or provide enhanced traction in all conditions. Always monitor traffic and weather conditions.
5. Limited availability - contact your local dealer for inventory information. AWD expected availability early 2023. Pre-production model shown. Actual production model may vary.
6. Public charging networks are provided by independent companies, and are not within Nissan's control. Availability of charging stations not guaranteed. See Owner's Manual for safety information.
7. Targeted range up to 300 miles for VENTURE+ FWD, 285 miles for EVOLVE+ FWD and PREMIER FWD, 265 miles for PLATINUM+ AWD, for combined city/highway driving. Based on Nissan internal simulation results, subject to EPA confirmation. Actual mileage will vary with trim levels, options, and driving conditions. Use for comparison only.
8. Approximate time, with 100 kw charger. Charging time and capacity may vary.
9. e-4ORCE cannot prevent collisions or provide enhanced traction in all conditions. Always monitor traffic and weather conditions.
10. Driving the vehicle at constant speed and with smooth pedal modulation improves vehicle range. Nissan also recommends heating or cooling the cabin while charging just prior to driving. Vehicle range will be reduced by: (1) highway speed driving (55+ mph), (2) aggressive driving (frequent or rapid acceleration), (3) severe conditions including heavy passenger/cargo load, uphill driving at a steep incline for extended periods of time, and (4) electrical use, especially heater or air conditioner use.
11. ProPILOT Assist 2.0 cannot prevent collisions. It is the driver's responsibility to be in control of the vehicle and monitor traffic conditions at all times. Hands-off driving is possible when driving in a single lane, on the condition that the driver remains attentive on the road ahead and is prepared to immediately take manual control of the steering wheel when conditions of the road, traffic, and vehicle require it. System operates only when lane markings are detected. Does not function in all weather, traffic and road conditions. System has limited control capability and the driver may need to steer, brake or accelerate at any time to maintain safety. See Owner's Manual for safety information.